News
Two Canadian firms play roles in historic landing on comet
November 15, 2014 by Alyssa Dalton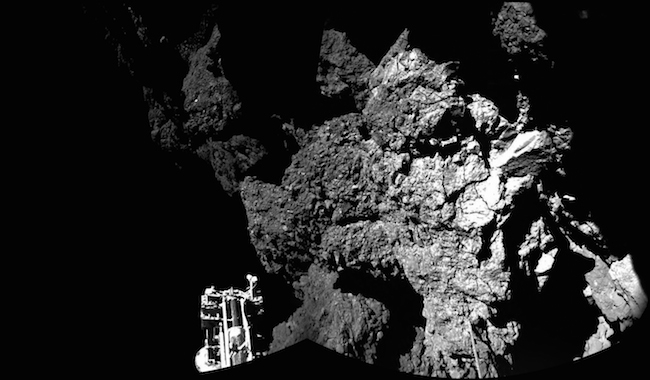 Nov. 15, 2014 – On November 12, the European Space Agency (ESA)'s Rosetta mission soft-landed its Philae probe on a comet, a historical feat that involved two Canadian companies.
SED Systems of Saskatoon, Sask., built three ground stations used by the agency to communicate with the Rosetta spacecraft, which sent its Philae lander down to the 67P/Churyumov-Gerasimenko comet.
"I'm really proud of our team," said Denis Sirois, SED business manager, after Philae touched down on the 4 km-wide comet. "It's kind of a testament to our capabilities for a small company out here on the Prairies."
Sirois described the successful landing as another milestone in mankind's extension into space.
"A lot of these scientists and mission planners spent a good portion of their careers working on this, so for them it's practically like their child," he said.
Rosetta was launched on March 2, 2004, and travelled 6.4 billion km through the solar system before arriving at the comet on August 6, 2014.
Touchdown was planned to take place at a speed of around 1 m/s, with the three-legged landing gear absorbing the impact to prevent rebound, and an ice screw in each foot driving into the surface, noted the agency.
"Our ambitious Rosetta mission has secured another place in the history books: not only is it the first to rendezvous with and orbit a comet, but it is now also the first to deliver a probe to a comet's surface," said Jean-Jacques Dordain, ESA director general.
Based in Ottawa, Ont., ADGA-RHEA Group provided MOIS (Manufacturing and Operating Information System) software to handle operation procedures and commands. Managing director Andre Sincennes said the company's engineers and scientists have been involved since the early days of the mission.
"Basically, going back to 2000-2002, we worked very closely with the European Space Agency to develop that application and now it's been proven over the last 12 years and it's being used in almost every single mission," he noted.
He said the software came into play during a crucial period three months ago. Rosetta was put into hibernation in June 2011 to limit its consumption of solar power.
The MOIS technology helped to reawaken the satellite this past August, a process that required Rosetta's 11 science and 10 lander instruments to be reactivated and readied for scientific observation.
"We are now in deep-space exploration. It will provide an array of information that will benefit and hopefully make the world a better world and we're extremely proud as Canadians. We're extremely proud to be part of that success," said Sincennes.

Photos © ESA, J. Mai
— With files from The Canadian Press