News
Saskatoon welcomes Manufacturing Centre of Excellence
November 25, 2014 By Alyssa Dalton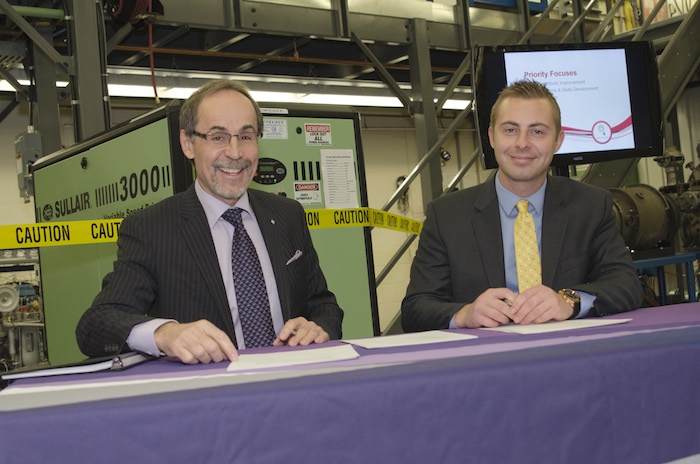 Nov. 25, 2014 – A Memorandum of Understanding (MoU) was signed yesterday between the Canadian Manufacturers & Exporters (CME) and Saskatchewan Polytechnic to formally establish the Centre of Excellence at the school's Saskatoon campus. The centre will focus on productivity improvement, innovation, and workforce development for the provincial manufacturing sector.
"Manufacturing has been a key component to Saskatchewan's unprecedented economic growth," said economy minister Bill Boyd, adding that the centre will provide manufacturers with the resources, services and leadership necessary to compete and win in both domestic and global markets.
PHOTO 1: Larry Rosia (left), president and CEO of Saskatchewan Polytechnic and Derek Lothian, vice-president Saskatchewan of Canadian Manufacturers & Exporters (CME).
Yesterday's launch coincides with the province's ninth annual Manufacturing Week, which features various events taking place November 24-28.
"Manufacturers in this province are already recognized around the world as world-class," said Tom Kishchuk, chair of the Saskatchewan Manufacturing Council, and president and CEO of Mitsubishi Hitachi Power Systems Canada. "But as markets evolve, so do the demands of business; it is imperative that manufacturers have timely access to the supports, training and best practices they need to continue creating jobs, stimulating investment, and driving economic growth."
The ministry of the economy has committed $1.5 million over three years to the centre and is working with CME to develop the programming. Other organizations providing support to the centre include Athabasca University and the National Research Council of Canada Industrial Research Assistance Program.
"The partnership with the Canadian Manufacturers & Exporters is a perfect fit with our emphasis on applied learning and applied research," added Dr. Larry Rosia, Polytechnic president and CEO.

Photos courtesy CME.