Features Education & Training
Ontario's first additive manufacturing resource centre now open
January 19, 2015 by Alyssa Dalton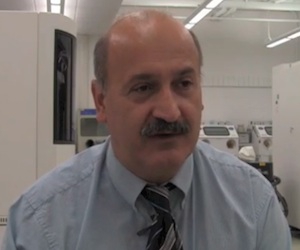 Jan. 19, 2015 – Mohawk College officially opened its Additive Manufacturing Resource Centre last Friday, the first of its kind in Ontario to serve as a test lab for advanced manufacturers and a living lab for students, it says.

The school's engineering technology students and faculty will now be able to work with 43 manufacturing industry, education and government partners on applied research projects. Digital images are turned into three-dimensional prototypes and parts made out of titanium, aluminum, nickel, stainless steel, bronze and other metals.
"Ontario is thrilled to support this partnership," said Reza Moridi, Ontario minister of research and innovation, "which will help provide cutting-edge resources to companies and train future generations to become leaders in additive manufacturing — a field that promises to help drive advanced manufacturing, keep Ontario competitive in the global economy and create highly skilled, well-paying jobs here at home."
(VIDEO: Manufacturing AUTOMATION caught up with Tony Thoma, dean of the engineering technology program, last summer for a sneak peek inside the facility and to learn how it will benefit both industry players and students.)
According to the college, Mohawk is one of three post-secondary education institutions in the country with the capacity to manufacture metal parts for industry. The centre features two advanced printers that turn digital images into three dimensional models, prototypes, tooling and production parts made out of titanium, aluminium, nickel, stainless steel, bronze and other metals. It also has plastic printers for creating preliminary designs.
"Our Additive Manufacturing Resource Centre helps strengthen our region's global competitiveness on two fronts," said Mohawk College president Ron McKerlie. "Advanced manufacturers can test and develop new and improved products while our students work with emerging technologies and go into the workforce as highly skilled, future-ready graduates."
The $2-million centre received $720,000 in funding from both the Canada Foundation for Innovation and the Ontario Research Fund, with additional support from industry partners.
" frameborder="0″ allowfullscreen>