Festo adds larger variants to EXCM tabletop gantry series
July 18, 2017
By Manufacturing AUTOMATION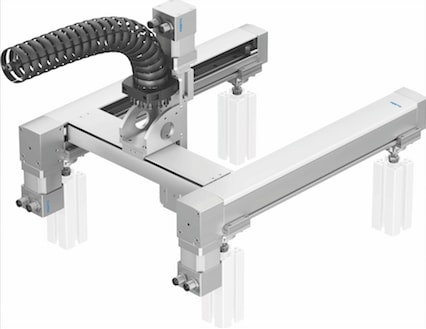 Jul. 18, 2017 – Festo has expanded its EXCM compact planar gantry series with two larger variants which, like the original EXCM-10, are suited for performing sub-assembly functions in a benchtop configuration or other small workspace.
The new EXCM-30 and EXCM-40 models promise to provide cost-effective plug-and-play solutions for small automation jobs in assembly, handling systems and medical laboratory devices that involve two- or three axis Cartesian motion. Both have scalable strokes along the X- and Y-axes, and are compatible with cleanroom applications. All EXCM gantries can be installed directly on a worktable without an external control cabinet, says Festo, noting that the parallel kinematic drive concept ensures low moving masses.
According to the company, the EXCM-30 is suited for small parts assembly and handling applications or in electronics manufacturing and laboratory processes. These include feeding and screwing in smaller components, applying adhesive points or testing electronics – advancing to contact points, or resistance testing. Meanwhile, the EXCM-40 offers a larger working area of up to 2,000 mm in the X direction and 1,000 mm in the Y direction. Thanks to the 48 V power supply, loads of up to 4 kg can be handled.