Rite-Hite releases LiteSpeed Washdown high-speed door
October 10, 2018
By Manufacturing AUTOMATION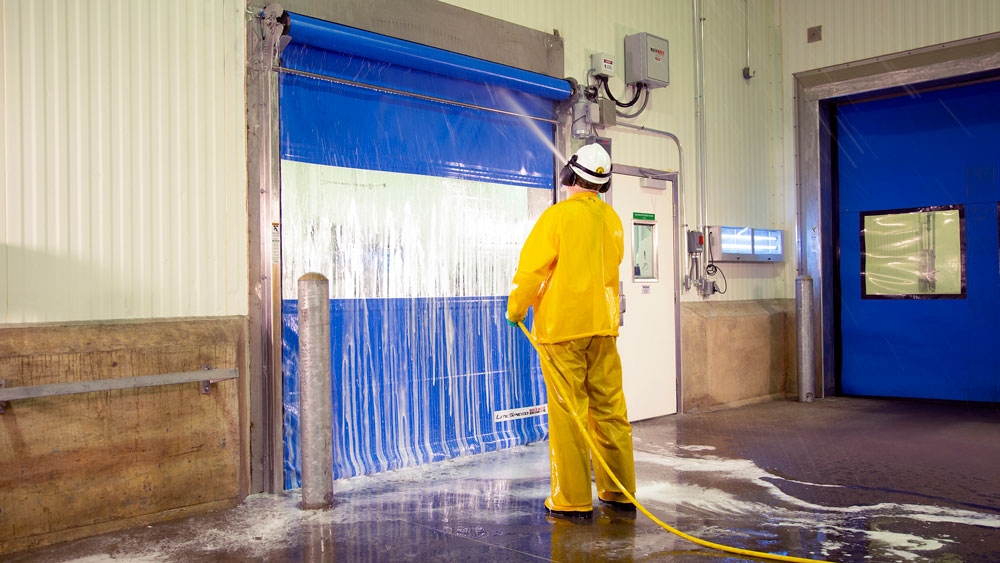 October 10, 2018 – Rite-Hite has developed a new high-speed door that the company says is easy to keep clean in food operations.
The LiteSpeed Washdown High-Performance Door has curtain retention of up to 0.2 InWC and meets clean Good Manufacturing Practices and guidelines established by the U.S. Food & Drug Administration and the Department of Agriculture.
The PVC vinyl curtain of the LiteSpeed Washdown operates on a stainless-steel frame designed without a header and motor shrouds, which are two areas notorious for harbouring bacteria. The completely heat-sealed vinyl and optional urethane curtains stand up to caustic cleaning chemicals used in a typical washdown application. The roll-up design translates into a smaller physical footprint and peak operating speeds of 65 inches/second with its quiet 1 HP motor. The motor is coated to withstand the harshest regular cleanings. A seven-inch LCD touchscreen graphic user interface allows simple troubleshooting at the door opening.
Without any hidden metal or rigid supports and the company's Soft Break-Away technology, the LiteSpeed Washdown delivers a safe high-speed experience. Using available safety presence sensors and an LED countdown, personnel working near the door are unlikely to bump into it. However, if the LiteSpeed Washdown is impacted, the door will automatically reconfigure back on its tracks.
Additional safety features include an optional full-width vision panel to allow workers to see what's on the other side of the door and presence-sensing technology to alert workers if someone is approaching from the other side of the door.