Products Robotics
ABB Robotics releases new version of PickMaster with digital twin technology
October 11, 2019 by Manufacturing AUTOMATION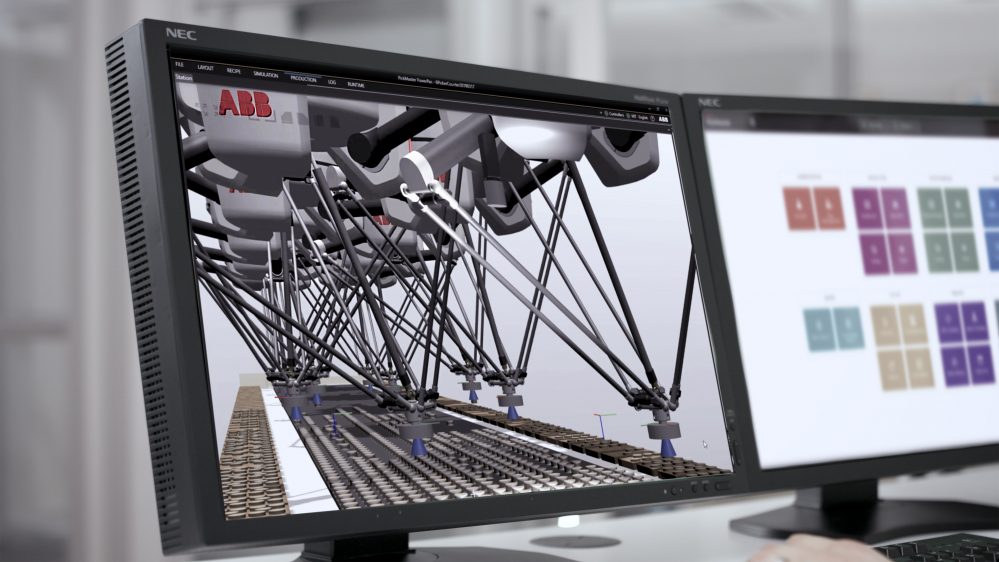 ABB Robotics has launched the third generation of PickMaster, its robotic software for vision-guided random flow picking and packing application.
The new PickMaster Twin software is equipped with digital twin technology for the first time, to shorten commissioning times from days to hours and cut changeover periods from hours to minutes.
Digital twin technology allows customers to test out robotic configurations on virtual production lines before physical lines are built. When using digital twin technology, the simulated twin can be directly connected to production operations, which allows the picking process to be optimized virtually at the same time as the process is being implemented.
PickMaster Twin now offers greater flexibility and visualization of all complicated robotic manoeuvres designed for flow-wrapping, tray loading, case and carton packing and handling applications.
Enabling offline programming of picking and packing tasks means users can create, simulate and test a complete robot installation in a virtual environment without having to disturb their actual production line.
PickMaster Twin also condenses and enhances the advanced application experience with new intuitive inter-faces built on ABB's AbilityTM Zenon Operations Data Management, providing dashboards for data visualization. In addition, PickMaster Twin complies with the OMAC PackML (packaging machine language) standard, which makes it ideal for modern packaging machines. The latest PickMaster software also features online visual tuning of the workspace in both X and Y directions in order to maximize output and increase OEE (overall equipment effectiveness).
PickMaster Twin is available in a multitude of configurations and can work with all ABB robots, and a range of virtual and physical machines.