CMTS 2021: A successful return
October 13, 2021
By Sukanya Ray Ghosh
The 2021 edition of the Canadian Manufacturing Technology Show reflected the ongoing pandemic circumstances in every way. While the organizers took the bold step to bring it back in-person, they also offered people the option to attend it virtually. Manufacturing AUTOMATION was present to capture the action on the show floor.
Held at the International Centre in Mississauga, Ont., from Oct. 4 to 7, the show was effective, productive and successful in its own way. In-person attendees masked up, armed themselves with their vaccination receipts and photo IDs and arrived at the show, all ready to network. Exhibitors held meaningful conversations with potential customers on all four days.
Thought-provoking discussions
While the trade show floor offered networking opportunities, attendees were also able to engage with experts on serious industry topics and concerns. The show featured a packed schedule of keynotes and panel discussions on all four days.
Given the hybrid format, online attendees had the opportunity to join in and contribute to join in the conversation. Through the show's virtual format, they watched the discussions and sent in their questions, which were answered live by the speakers.
The event kicked-off with a keynote on strategies to manage geopolitical risks. The speaker, Courtney Rickert McCaffrey, insights leader at EY Geostrategic Business Group, talked about some of the big risks we see in the world today. She highlighted a few that her company is monitoring that was specifically of interest to the audience. She then discussed how to manage those risks to improve supply chain resilience in business operations overall. Her company surveyed over 1,000 C-suite executives from industries and countries worldwide on political risks and political risk management practices. McCaffrey shared the findings through that survey with the audience.
McCaffrey noted that "political risk management is in flux right now. This is in large part due to the COVID crisis. What it has done is that it also really tested companies' risk management systems. And as part of that, there's political risk management. COVID is a pandemic and a national phenomenon. But it has also been a political risk event because government policies and regulations have changed, sometimes overnight. Companies have had to manage all that political volatility at the same time as managing the actual pandemic."
She added that 90 percent of the survey respondents mentioned that their companies have faced unexpected political risks in the past year.
McCaffrey said during her presentation that reinvigorated climate policy agendas will reshape the business environment. Talking of headwinds for major tech companies, she noted that industrial policies will compete in digital technologies; there is increasing divergence of technology standards across markets; there is wider implementation of data policy laws; there is a new wave of antitrust enforcement; and there is digital taxation. These have implications beyond the technology sector. The number two risk in the next 12 months is data privacy or localization, she added, with the greatest business impact on data and intellectual property.
McCaffrey also said that neo-statism will rise as COVID-19 pushes countries to prioritize self-reliance. Neo-statism may result in further weakening of multilateral institutions like WTO. She said that globalization has entered a new era: "globalization with status characteristics. International commerce will continue to exist, but it won't be that relatively frictionless trade investment flows that we have enjoyed in the earlier period of globalization."
McCaffrey explained that as a result of these changes, manufacturers are adjusting their supply chains and global footprints accordingly. She added that in the next year, more than 50 percent of manufacturing companies expect to diversify their supplier base.
McCaffrey said that geostrategy is a structured approach to political risk management. Manufacturers have to identify and dynamically monitor political risks for opportunities and challenges. They should assess the impact of political risks on company functions and the global footprint. They should manage political risk in a holistic and cross-functional manner at both the operational and strategic levels. McCaffrey said that her company concluded that effective management of political risk involves three distinctive competencies – political, operational and financial.
A major impact of COVID-19 has been on supply chains. While the world is on the path to recovery, disruptions continue to affect the manufacturing industry. The global chip shortage is an example that immediately comes to mind.
The CMTS 2021 organizers put together a panel of experts to discuss "Building a resilient supply chain: Enabling speed and agility to protect your customer and your bottom line." Led by moderator Kimberley Hagerty, digital operations officer at AWS, the panel featured Stewart Cramer, chief manufacturing officer at NGen; Alejandro Guerrero, vice-president of consulting at Infor; and Michelle Bockman, CEO of 3D control systems.
Cramer noted that the disruptions that resulted from the pandemic and the rapid expansion of virtual and digital business models highlight opportunities for Canada to build back better value chains. He added that the disruptions and challenges being faced by manufacturers are the same ones being faced by competitors. So, this is as much an opportunity as a threat. He also said that Industry 4.0 plays a major role in the value chains of the future. Technology adoption and integration is essential across the supply chain.
The key takeaway from Cramer's presentation was that it's not just enough to have connectivity and it's not just enough to have smart machines. It is important to have that overall value network visibility and collaboration that allows manufacturers make actionable insights and take value-driven business decisions.
At the end of Guerrero's presentation, Hagerty posed a few questions to the audience. She asked, "If you had the right data at the right time, what business decisions would you be able to make? What would you be able to change? If you didn't have to data mine, if you didn't have to wait weeks to collect data from multiple systems, and then put it in a spreadsheet, put it in a PowerPoint and then review it, what would you change? What would you do differently?"
Hagerty noted that the key takeaway from Guerrero's presentation was the ability to have that at one's fingertips can help them make better business decisions. They can now use the right data at the right point at the right time across the global ecosystem.
Bockman, during her presentation, talked about the complexity and the disparity of the process and the data. When it comes to product lifecycle management and data that's generated on the design side, and how that is fed and consumed downstream, the design and configuration of the data is very different on the engineering side than it is on the operation slide, on the supply chain side and on the quality side. Bockman explained that having the ability to not only consume that data, but to be able to make sense about that data is key.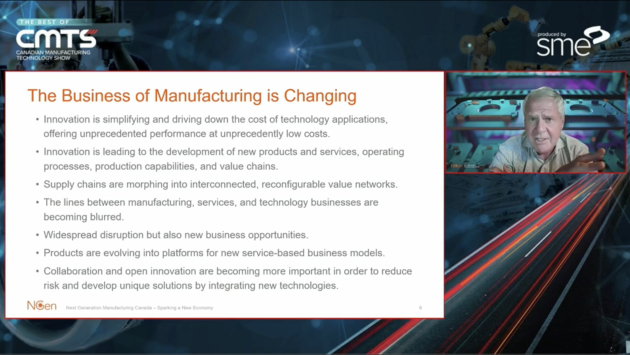 Jayson Myers, CEO of NGen, joined in virtually to offer a keynote on the topic: "Manufacturing transformation: Opportunity or threat?" Myers explained that the business of manufacturing is changing in many ways. He noted that in order to compete in the global marketplace, there needs to be increased adoption of automation.
Read more about Myers' presentation here.
Besides keynotes and panel discussions, the event also featured numerous "Tech Talk" sessions throughout. The talks touched on a variety of topics, including – understanding artificial intelligence, getting started with industrial robots, autonomous robot manufacturing, digital transformation, digital enterprise, automated material removal, new approaches in real-time analytics, among other things.
Small but productive
Although masks hid the smiles of attendees and exhibitors alike, the show floor continuously buzzed with the excitement of being able to reconnect after a tough few months. The show size and attendee turnout were by no means close to what CMTS has seen in its pre-COVID editions. However, the show saw people who were serious about attending and were there with a purpose. Exhibitors shared that they were able to get solid leads and were really glad to be there. At the end of the event, attendees and exhibitors were able to leave informed and satisfied.
Check out the full gallery of photos taken of the trade show floor.