September 28, 2020 by Manufacturing AUTOMATION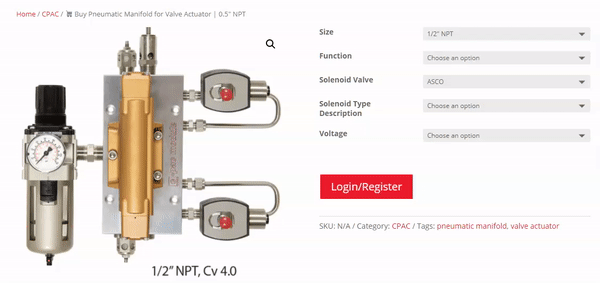 Cowan Dynamics has announced advancements to its C-PAC Module Pneumatic Manifold and the launch of a corresponding C-PAC store.
The C-PAC (Cowan's Pneumatic Actuator Control) is an out-of-the-box solution that the company says can save up to 90 per cent in assembly time and to automate valve actuators without using piping to connect various automation components.
The C-PAC Pneumatic Manifold has several capabilities for linear and 1/4 actuators, including speed control, safety pressure relief and fail-safe capabilities.
The pre-assembled manifold configuration eliminates potential leak points and comes with an optional pre-installed ASCO solenoid valve.
Actuator technicians can select any solenoid valve brand with the appropriate area classification for complete compatibility.
The online store gives valve automation centres and technicians the ability to configure the C-PAC module with over 35 variations for their application.
The C-PAC pneumatic manifold can be ordered in three sizes: 1/4″ NPT, 0.5″ NPT and 1″ NPT.