Features Industry 4.0 & Smart Manufacturing
CANCELLED: Three don't-miss events for manufacturers at North America's newest Industry 4.0 conference
August 9, 2019 by Manufacturing AUTOMATION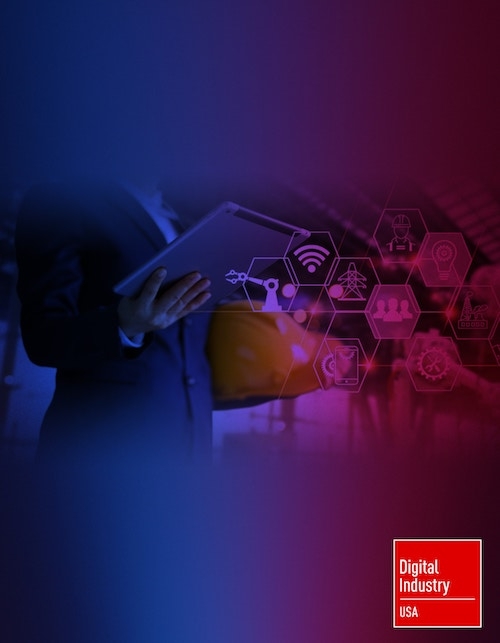 August 9, 2019 – Editor's note: This conference has been cancelled. Updated September 9, 2019.
The first-ever Digital Industry USA conference focusing on Industry 4.0 and Industrial Internet of Things (IIoT) solutions in manufacturing is taking place in September, and there's a lot of programming on deck from the fair organizers.
Hannover Fairs USA and Deutsche Messe, the organizers of the world's largest manufacturing show Hannover Messe and its North American edition, Hannover Messe USA, are hosting the Digital Industry USA event on September 11 and 12 at the Kentucky International Convention Center in Louisville, Kentucky.
Digital Industry USA will run in the odd years when Hannover Messe USA, which takes place at the biannual International Manufacturing Technology Show (IMTS), is not running.
Here are three things to expect from the first-annual conference:
1) Deep dives on the latest technologies
The exhibitor area at Digital Industry USA will be organized into six "Technology Hubs" that will allow you to focus on acquiring specific knowledge.
Data Analytics & Cloud: Bring cloud computing to your plant and access the data you need to make the right decisions at the right time.
Production Efficiency: Reduce waste and calibrate for variables with real-time monitoring of your entire line.
Additive Manufacturing/3D Printing: Cut manufacturing time with agile processes that respond immediately to design changes.
Robots/Cobots: Reduce your reliance on labuor and increase safety through robots designed to collaborate with humans.
AI & Intelligent Machines: Forecast changes in demand and take a proactive approach with predictive maintenance.
Security: Keep your data safe and your customers protected with authentication, access control, anomaly detection and more.
In addition to vendor exhibits, the show floor will also feature smart factory case studies, hands-on demonstrations, and real-time IIoT solutions, with exhibitors available to walk you through how their solutions can benefit your business.
Siemens, for example, will span the Production Efficiency and Data Analytics & Cloud hubs to demonstrate how manufacturers can successfully leverage Industry 4.0 technology to gain competitive advantage in a rapidly transforming value chain. The company will showcase its automation systems for discrete and process industries, software for creating and gaining step-change value from digital twins, the open IIoT platform MindSphere and a range of digital services including defense-in-depth cybersecurity.
2) A keynote on cybersecurity concerns in manufacturing
Phil Quade, a 34-year veteran of the National Security Association (NSA) and chief information security officer at Fortinet, provider of cybersecurity infrastructure solutions, will deliver the keynote address. Quade plans to offer an in-depth look at the evolving cybersecurity landscape and will focus his discussion on the evolution of Cy-Phy, the convergence of cyber things with our physical spaces.
Known as Industry 4.0 and digital transformation in the manufacturing space, Cy-Phy is being driven by the implementation and convergence of technologies, including operational technology (OT) networks, Internet of Things (IoT) and Industrial IoT, 5G, edge computing and artificial intelligence (AI). "All of these, combined with rapidly developing new technologies on the horizon, are fundamentally changing the industrial automation landscape," says Quade. "But for these changes to achieve their transformational potential, their security implications need to be understood and planned for long before their impact is felt in the plant."
---
Related news
Digital Industry USA 2019 trade show adds extra programming for executives
Hannover Messe organizers to launch new IIoT event Digital Industry USA in 2019
---
During his keynote presentation, Quade will discuss how this revolution can enable the securitization of industrial automation for those manufacturers who recognize its significance and who are ready to implement the foundational elements of a security strategy that will allow them to thrive in this rapidly emerging Cy-Phy environment. Critical to thriving in the new Cy-Phy environment is the adoption of the foundational elements of a security strategy that includes speed, integration, collaboration and automation.
"As the convergence of OT and IT accelerates, the likelihood of digital attacks will surface," says Quade. "Manufacturing equipment and operational technology networks will be exposed to attacks from the plant's IT networks." To that end, Quade's keynote also will highlight best practices that industrial automation facilities need to implement to future proof their organizations. Quade's keynote will discuss how to increase network visibility, segment networks, analyze traffic for threats, enforce identity and access management, as well as how to secure wired and wireless access to secure your facility's IT and OT networks.
3) On-floor education sessions
Digital Industry USA has partnered with smart manufacturing industry associations to provide educational content for the trade show's on-floor education sessions, including Advanced Robotics for Manufacturing (ARM), MESA (Manufacturing Enterprise Solutions Association) International and the National Electrical Manufacturers Association (NEMA).
Each of these associations will host discussions by industry thought leaders and visionaries selected specifically to showcase a variety of trending Industry 4.0 and IIoT (Industrial Internet of Things) topics, field experiences and case studies.
ARM will spotlight a variety of speakers in the Digital Industry USA Robots/Cobots Learning Lab. In addition to drawing speakers from its more than 200 member companies, Arnie Kravitz, ARM's CTO, will discuss the industry's technical vision and Suzy Teele, ARM's head of marketing and communications, will discuss robotics and workforce issues and innovations.
MESA International will host three on-floor workshops focused on the "how" and the "why" to use Industry 4.0 to digitize operations. MESA workshops include Seeking Common Ground for Smart Manufacturing; The Road Less Travelled: The Journey Toward Smart Manufacturing; The Value of Smart Manufacturing: Techniques for Finding the Payback for New Projects, and all will provide training and actionable plans for deploying smart factory solutions.
NEMA will host several panel discussions, drawing from NEMA staff and its more than 325 member companies plus speakers from DXC Technology and The Association for Manufacturing Technology (AMT). Discussions will centre on solving the business problems of implementing IIoT. Kirk Anderson, industry director for the NEMA Industrial Automation and Systems Division, will discuss digital twin. NEMA member company Rockwell Automation will discuss smart sensors and member company Schneider Electric will present augmented reality in the smart factory.
Digital Industry USA takes place September 11-12, 2019 in Louisville, Kentucky.