Webinars
Final Cobots in Canada webinar for 2021 now available on demand

Sponsored by Universal Robots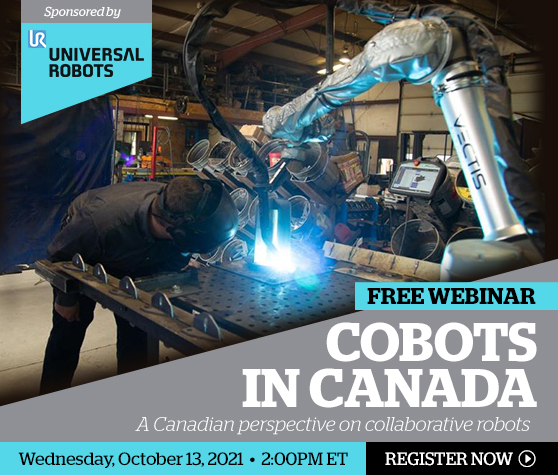 The final episode of the Cobots in Canada webinar series for 2021, sponsored by Universal Robots, is now available on-demand.
Canada's manufacturing community has many unique challenges. As an export nation, we have to be what our customers need: from high and medium volumes to high mix and low volumes.
We have to be innovative and flexible in our approaches to manufacturing, costing, quality and delivery. Capital investment in automation is a critical conversation, especially post-COVID, where attracting, securing and retaining skilled personnel is one of Canada's looming labour challenges.
"Cobots" are the fastest growing segment in automation, and considering their lower cost and quicker deployment compared to traditional robots, it's easy to understand why.
The final episode of the Cobots in Canada webinar series can now be accessed on demand. Just register to watch for free!
What you'll learn:
What is collaborative automation and why should manufacturers consider it?
How to plan for success in collaborative robots
Use cases: Who is doing what with cobots in Canada?
The ROI of using cobots to automate repetitive tasks: quality, cost savings and bottom line results.
Meet the speakers:
Ryan Deyman
Technical Sales Representative, Advanced Motion & Controls Ltd.
Pierre Levesque
Manager of Information and Corporate Technology, Carriere Industrial Supply Limited
Mason Fraser
Junior Software Engineer, Carriere Industrial Supply Limited
Michael Phillips
Application Engineer, Universal Robots
About the moderator

Jim Beretta is president of Customer Attraction, an industrial marketing consultancy. He works with companies in robotics, automation, manufacturing, packaging and capital equipment on branding, marketing and search engine strategies. He attended the University of Western Ontario and is based in Cambridge, Ont. Jim can be reached at jim@customerattraction.com.