Rockwell announces $12M commitment to FIRST
November 17, 2016 | By Manufacturing AUTOMATION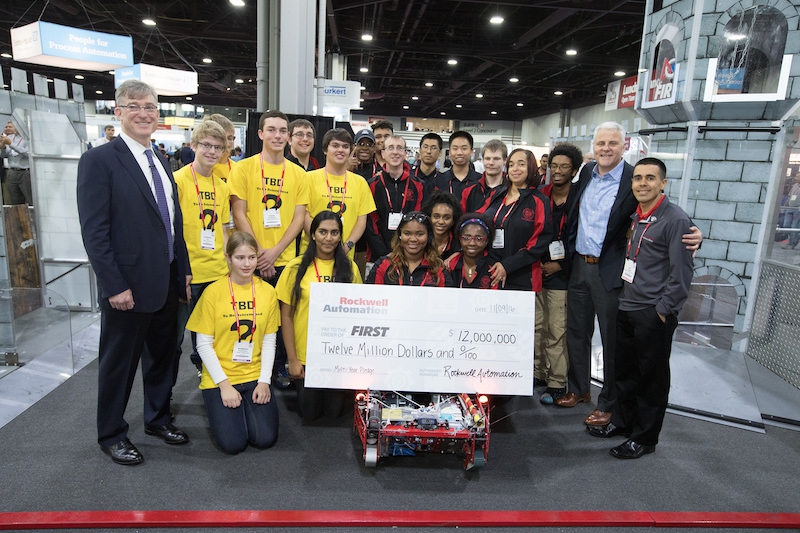 Nov. 17, 2016 – Last week at Automation Fair 2016, Rockwell Automation announced a $12-million, four-year commitment to FIRST (For Inspiration and Recognition of Science and Technology), a non-for-profit organization that works to inspire young people's interest and participation in science and technology.

Based in Manchester, N.H., the organization hosts the FIRST Robotics Competition for students in Grades 9-12; FIRST Tech Challenge for Grades 7-12; FIRST LEGO League for Grades 4-8; and FIRST LEGO League Jr. for Grades K-4.
Rockwell is recognized as a FIRST Strategic Partner, which signifies the highest levels of sponsorship available at FIRST. It is also a FIRST Robotics Competition Crown Supplier. The company also donates products integral to FIRST program games and scoring, particularly for the FIRST Robotics Competition playing fields and scoring systems, and within the parts kits the teams use to build their robots.
"Through our technology and people, we are helping to inspire the next generation of innovators to fill the talent pipeline for our customers and for our company," said Blake Moret, president and CEO, Rockwell Automation. "Our strategic partnership with FIRST helps us increase our reach and visibility to STEM students around the world."
"This generous, multiyear commitment from Rockwell Automation will allow us to focus on the strategic aspects of our partnership while continuing to help scale our programs and expose students to a broader range of industry-leading products and applications," said Donald E. Bossi, FIRST president. "The company has a long, rich history of supporting FIRST."
In addition to this latest donation, Rockwell Automation has provided more than $15 million of broad-based support over the past decade to address the skills shortage in STEM careers.