Products Motion Control
Festo unveils compact DGST pneumatic mini-slide at Automate 2019
April 11, 2019 by Manufacturing AUTOMATION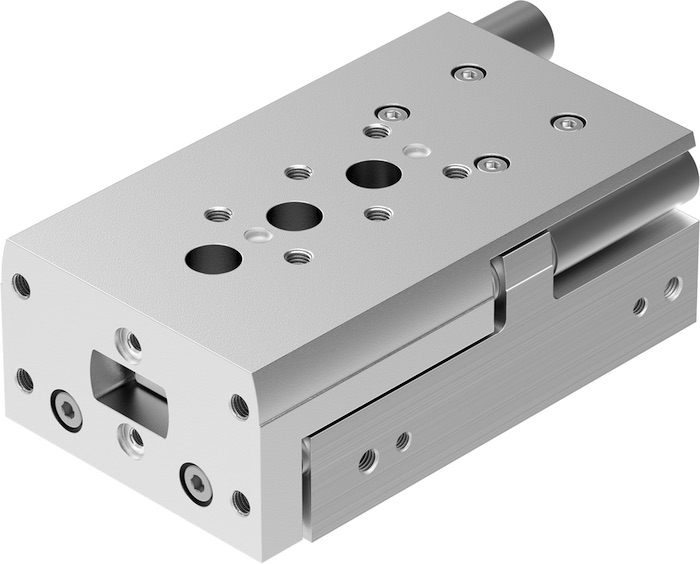 April 11, 2019 – Festo debuted its new DGST series pneumatic mini-slide at the Automate 2019 trade show this week in Chicago.
The mini slide is extremely compact, with what the company says is the smallest footprint on the market.
Guided mini-slides are used in applications where repeatable precision is required with every stroke, through millions of cycles.
The DGST slide and yoke are manufactured as a single component, rather than two pieces joined together, thus ensuring very high rigidity and perpendicularity. That, along with a backlash-free yoke connection and recirculating ball bearing guide, produces a technically optimized system with extremely small tolerances and very high repetition accuracy. DGST's maintenance-free, twin-piston drive increases its power, load-carrying capacity and overall stability.
DGST is ideal for pick and place, small parts and piggyback handling and press fit functions.
The series comprises seven sizes from 6 to 25, and variants are available with stroke lengths from 10 mm to 200 mm. Two DGST drives can be joined in several possible combinations, without adapter plates, as part of gantries and other automated handling and positioning solutions. All interfaces are symmetrical, and all supply port connections are on one side of the unit. Proximity sensors can be integrated into the body of the mini-slide, so there are no projecting parts.
The DGST series comes with a choice of three cushioning types: elastic cushioning with or without end-position adjustment or self-adjusting shock absorbers with end-position adjustment.
DGST is the newest member of Festo's Stars of Automation lineup, meaning it's always available in stock in North America.