Virtual Events
Women in Manufacturing
May 13, 2021 at 1:00pm ET
Women have comprised 29 per cent of Canada's manufacturing workforce for the past 40 years – but representation is gradually increasing as key industry players lead the change on gender equity. Inspired by their ongoing efforts to dismantle the barriers that prevent or discourage women from entering the industry, and to facilitate conversations about advancing women into leadership positions, Annex Business Media's Manufacturing Group is teaming up to host a new virtual summit called Women in Manufacturing, as well as launch an accompanying website: WomenInCanadianManufacturing.com.
Featuring some of the biggest influencers in the Canadian manufacturing sector, as well as women who have trailblazed in their careers, the Women in Manufacturing Virtual Summit offers a live panel discussion, presentations and on-demand sessions where speakers will explore the importance of fostering a diverse and inclusive workforce, share career advice and real-life experiences, recommend actions companies can take to recruit women and advance them to leadership positions, and much more.
Don't miss this FREE opportunity to connect with industry experts and thought leaders whose shared goal is to promote gender equity, diversity and inclusion in Canadian manufacturing.
---
We have filled the live event agenda for this event, but if you have a proposal for an on-demand session, please email Kristina Urquhart, editor of Manufacturing AUTOMATION, at kurquhart@annexbusinessmedia.com.
Register Now
Schedule
Speakers:
Kristina Urquhart, Editor, Manufacturing AUTOMATION
Shelley Fellows, Chair, Automate Canada
Margaret Stuart, Country Manager, Canada, Salesforce
Speaker:
Rhonda Barnet,
President & COO, AVIT Manufacturing
A post-COVID world on the horizon, the skills shortage and advances in technology have manufacturers thinking about flexibility in new ways. In an era where good talent is hard to find, that flexibility must extend to your workforce — and this is especially true for women, who have been have been disproportionately affected by the pandemic.
Speaker:
Mathew Wilson,
Senior Vice-President, Policy & Government Relations & Ontario Division Lead, Canadian Manufacturers & Exporters
In 2017, Canadian Manufacturers & Exporters Association put together Untapped Potential, an action plan for increasing the number of women in manufacturing, and has since launched several initiatives to help manufacturers on their journey to gender diversity and inclusion. This presentation provides an update on what's been accomplished so far, and where the sector can go from here.
Speakers:
Brendan Sweeney,
Managing Director, Trillium Network for Advanced Manufacturing
Marie-Pierre Lalande,
Head of Human Resources, Sanofi Canada
Gary Kidson,
Head of Human Resources, Sanofi Pasteur Toronto
Recruiting more women is critical to addressing manufacturing's labour shortage – however, there remain many barriers to hiring and retaining them. This session explores the results of the Trillium Network's recent Gender Diversity and Ontario Manufacturing report, which highlights case studies from five companies and provides actionable takeaways to make culture changes in your own workplace.
2:40pm- 2:55pm
Break
Panelists:
France Daviault,
Executive Director, Canadian Apprenticeship Forum
Antonia Wareham,
Welder, Irving Shipbuilding
Elizabeth Moses,
Machinist, Harbour Technologies
Women currently fill 4.5 per cent of skilled trades roles. Increasing that percentage and creating a culture on the shop floor that is welcoming to women is one of the key goals of the National Strategy for Supporting Women in Trades, spearheaded by the Canadian Apprenticeship Forum (CAF-FCA).
In this fireside chat session led by CAF-FCA's executive director France Daviault, women working in trades discuss current challenges and potential solutions.
Panelists:
Irene Sterian,
President & CEO, REMAP Network, and Director, Technology & Innovation, Celestica
Diane Reko,
Chief Executive Officer, Reko International
Peng-Sang Cau,
Vice-President Life Sciences, Emerging Markets & Symphoni, ATS Automation
Kristle Bautista,
Author, Course Director and HR Advisory, Magellan Aerospace Limited
Moderator:
Nour Hachem-Fawaz,
President, Build a Dream
In this panel discussion, industry leaders discuss how traditional approaches to cultivating leadership in manufacturing must evolve to accommodate the strengths women bring to the decision-making table.
On Demand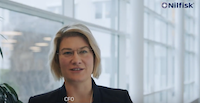 Nilfisk inspires women to stay true to who they are and what they bring to the table, that is what will make anyone successful in their career.
Through the EMC's WILWorks program, learn how manufacturers can unlock federal wage subsidies for work placements – which increase when hiring students from underrepresented groups, including women in STEM.
Shelley Fellows, chair of Automate Canada, sits down with Kristina Urquhart, editor of Manufacturing AUTOMATION, to discuss mentorship, supplier diversity and more.
Three young employees from Myant, A&K Robotics and Linamar give a glimpse into the high-tech world of advanced manufacturing.
A diverse group of industry professionals sharing their insight on gender diversity in the workforce. They speak about the female experience starting from school, as well as the importance of building the self-confidence to explore other career paths.
Product Demos
Nilfisk Liberty sc50
Frequently Asked Questions About Women in Manufacturing
When & Where?
Women in Manufacturing will take place virtually via Zoom Webinar on May 13, 2021 at 1:00pm ET.
There will be a 15 minute break between live sessions.
Why Virtual?
The safety and wellbeing of our employees, customers, and community is our number one priority. By making this event an online experience, it eliminates the need for attendees and sponsors to travel in-person, while enabling them to still benefit from the event content.
What's Included?
Your registration provides you with access to watch the virtual keynote, all live sessions, and on-demand recorded content and product demonstrations.
How do I access?
We will email you an access link to the virtual event the morning of May 13, 2021.
If you don't see an access link in your email inbox, please check your junk folder. If you are still unable to locate the email, contact
Azeemah Abowath
.