News Workforce
Centre Stage: Farzad Rayegani
May 24, 2016 by Alyssa Dalton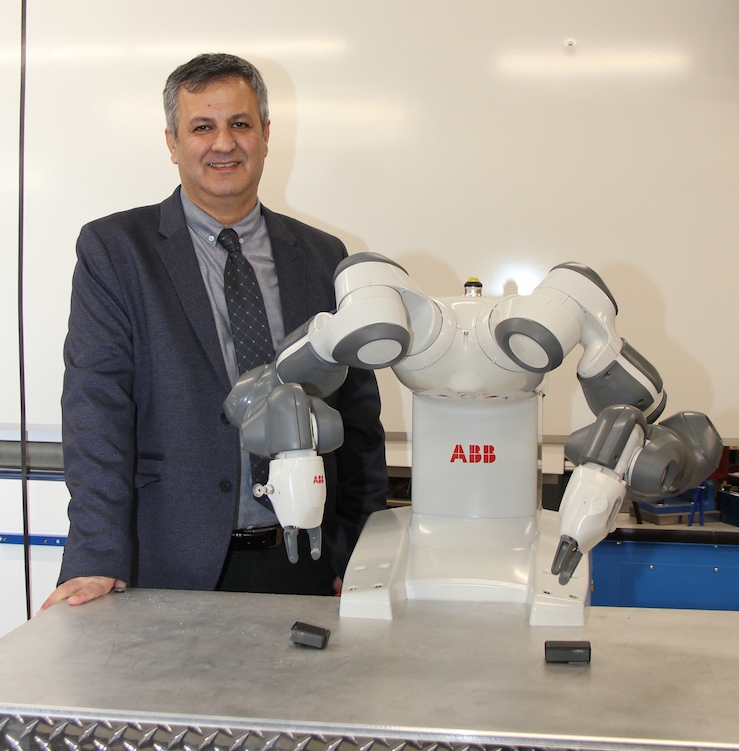 May 24, 2016 – Industry-academia collaboration is crucial to strengthening our manufacturing force, says Farzad Rayegani, director of Sheridan College's Centre for Advanced Manufacturing and Design Technologies (CAMDT).
MA: What is the CAMDT and why was it established?
FR: A few years ago in Ontario, everybody was saying that manufacturing is done, we looked at that and wondered how we can help Ontario SMEs during this difficult time. From our perspective, we knew that manufacturing would never go — you cannot live without manufacturing, but the [belief] was that manufacturing was scary, it was going to China and India and never coming back. So instead of distancing ourselves from manufacturing, we decided our focus would be to show the value of manufacturing, especially in this Halton-Peel region. We wanted this technological hub to be a risk-free playground for the small, medium sized companies — a platform where companies, industry and academia could work together for solutions to their problems. Small, medium sized companies are struggling on a day-to-day basis so when there is adoption of a new technology, a business owner may wonder if they should make an investment in that. There is no one solution [for all], because a company's product, assembly model, employees and culture are all different, and you need to go to an environment to really test it out.
MA: Why is it important for educational institutions to have a strong relationship with industry players?
FR: [We see that] technology is moving so fast that if we don't work with the industry, we can never catch up. If I have a professor who never leaves the cubicle, how can they really understand what's going on? If I teach from the same book for the last 10 years, do you think I can really be up-to-date? So how can I promote valuable professional development everyday for my faculty? There is no choice, the only choice is industry-academic collaboration […] where the faculty [gets to] interact with the industry on a daily basis. To create a platform like this, a curriculum or program cannot be so rigid and taught in silos. [You can't have] each class become a silo where students only learn individual elements and ideas… you have to interconnect the education, if you teach it separately, your structure doesn't have the mechanism to connect it. You can't only teach the fundamentals without the integration of applications. Manufacturing is a complex system so you need a complex approach.
MA: What are your thoughts on the move towards increased robotics in manufacturing? Some people consider automation a job killer, thinking robots will come in and make human jobs obsolete. Is that something we should be concerned about?
FR: Many Canadian companies find their product development in a state of gridlock. Advanced manufacturing techniques can accelerate the design cycle, save money, boost innovation and increase compatibility. The trend now is that automation is smart, and robots are helping in an absolutely different way. Robotics was here back in the 80s, and when it was a new thing, everybody was against robotics, saying that we are losing jobs. Did they lose their jobs? No, but the behaviour, the value of the job and its characteristics have changed. You will always have a job, but now it will be a value-added job. There is so much work in manufacturing, still, that we can automate. We can use robots to add value and to increase the quality of life. Automation is a horizontal sector that can touch all vertical sectors — like manufacturing, healthcare or construction.
MA: What can Canada do to become a frontrunner in the global manufacturing industry?
FR: We are doing lots of great things but our skills gap will be bigger and bigger if we don't act. This should be a collective act of the industry and academia. We need to create and support industry-academia partnerships and technological hubs at the regional and national levels to accelerate the adaptation of advanced manufacturing technologies. If we want to stay globally competitive, Canadian manufacturers must invest in the development of new and improved products, while modernizing production processes to achieve efficiency and productivity gains. As well, academia, industry and government should launch initiatives to send more Canadian abroad to study, perform research and work in global business.
This column was originally published in the March/April 2016 issue of Manufacturing AUTOMATION.